Arrowhead Reclamation is located near Whitehall, Montana.  Arrowhead Reclamation specializes in revegetating difficult sites.  By integrating consulting and contracting we can provide trained, practical, cost-effective services for industry, government and private landowners.  Arrowhead Reclamation is fully bonded, licensed and insured.

Some of our most recent projects include:

Revegetation-Constructed the revegetation test plots for the Federal Department of Highways on the Beartooth Pass Highway project.  Performed revegetation work for the Forest Service at the New World Mine Reclamation project above Cooke City, Montana and the MT DEQ at the Zortman, Landusky Mine in northern Montana 2000-2006. This work involved steep slope snowcat seeding, amending soil with lime and compost and weed control.   Other revegetation work includes superfund work on Silver Bow Creek near Butte and various gold mines and MTDOT projects including Barrett's Minerals Inc., Golden Sunlight Mines Inc., Pegasus Gold Corp., and MSU.
Soil Amending- applied lime, mulch, compost and fertilizer on numerous Forest Service and MT DOT projects.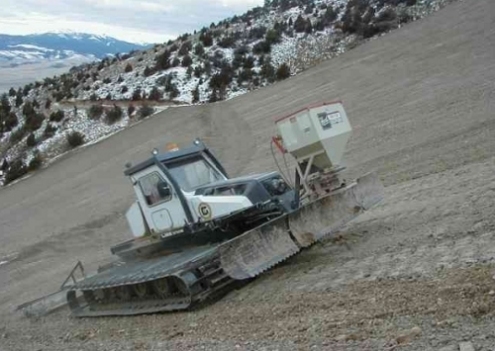 Abandoned Mine Cleanup-Block P Mine Reclamation project in Monarch, Montana 2005-2006 for Bitterroot Restoration and Doe Run Lead Smelting of Missouri.  Mine closures, recontouring and revegetation for Dillon, Sheridan, Butte and Wise River Ranger Districts.
Erosion Control- Barrett's Mineral Inc. Treasure Mine access road sediment control.  Sheridan and Wise River Forest Service Road erosion control.  Work included sediment basin construction, straw bale and silt fence placement.
Stream Bank Restoration- Jefferson River Watershed Council bank stabilization project on the upper Jefferson River near Twin Bridges-2006-2007. Sheridan Ranger District Cutthroat Trout Restoration Project, 1998.  Wise River Ranger District Calvert Creek Restoration.  Projects involved stream redirection, rock and log placements for habitat improvement and sedimentation control.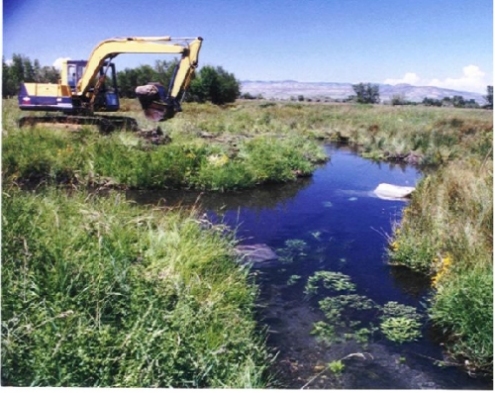 Wildlife Habitat-Seeding wildlife food plots and planting trees and shrubs for Fay Recreational Ranch Management of Bozeman, Montana 2002-present.  Work consists of restoring and improving ponds, sloughs, and finished riparian areas for wildlife habitat and forage.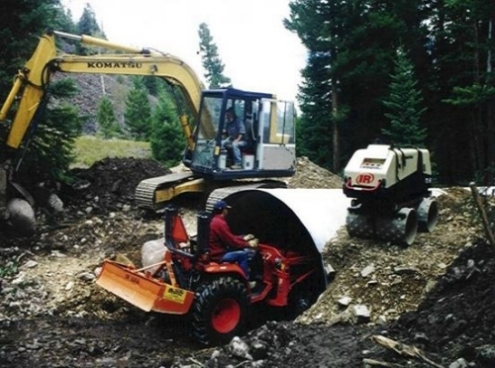 Excavating-Ponds, septic systems, roads and waterlines.
Landscaping-Specializing in xeriscapes and natural low maintenance landscapes. Design and construct large landscape projects utilizing boulders, shrubs, sod, seeding, compost applications, trees, etc.
Consulting-Qualified to take projects from design to finish.  Experienced in site evaluation, permitting, design and construction of reclamation and waste disposal systems, soil and vegetation mapping, sampling and analysis.  Performed field work on CERCLA sites.   Assisted with the design and oversight of reclamation/environmental projects in Montana, Wyoming, Nevada, Utah, Alaska and Costa Rica.
Weed Control-Commercial applications using ATV's and tractors for government agencies, mining companies, land managers, and ranches.
Equipment currently owned includes: an excavator with a thumb, backhoes, dump trucks, seeding equipment, farm tractors, large and small loaders, bulldozers, hyro-seeder/mulcher, straw blower, modified snowcat for seeding steep slopes, soil amendment spreaders and semi tractors with live bottom and flatbed trailers.  We can lease additional equipment and subcontract to other companies if required.